Daily Beast Photo Flub
Arab demonstrators in the Jerusalem neighborhood of Silwan were busy smashing up Israeli police cars on Friday, and the Daily Beast has it covered. Well, sort of. Here's their featured Photo of the Day, and the accompanying caption, as it now appears on their home page: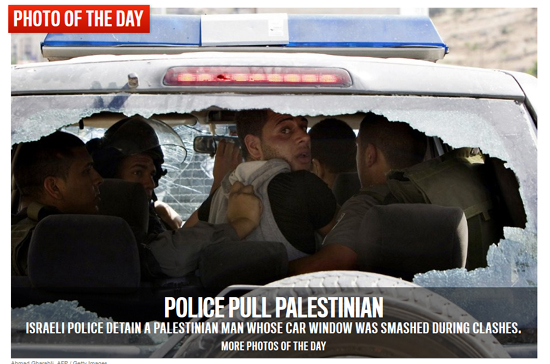 So a smashed up Israeli police car, damaged by Palestinian rioters, becomes a smashed up Palestinian car (damaged, perhaps, by the Israeli police officers). How do you like that? Maybe the Daily Beast caption-writer has a promising career as a used car salesman. (I hear he has a great deal on a roomy vehicle. If you don't mind a little extra fresh air, and some broken glass.)
The original caption for the AFP photo by Ahmad Gharabli was:
Israeli riot police detain a Palestinian man in a car whose rear windown was smashed during clashes between Palestinian youth and the Israeli police in the east Jerusalem neighbourhood of Silwan on May 12 [sic], 2012. . . .
(The incident actually occured on May 11, and was posted to the Newscom photo service site on May 11.) This more detailed caption also appears in the Daily Beast if you click on front-page photo with the erroneous, truncated caption. While the AFP did not falsely claim, like the the Daily Beast home page, that the damaged car belongs to a Palestinian, it was not also exactly forthright that it was an Israeli police car, damaged by Palestinians. But given AFP's troubled history on photo captions, that's not exactly a surprise.
Here's a fuller photo of what appears to be the same damaged vehicle (the edge of the broken glass is identical in both pictures), in which you can clearly see the police license plate (red, with the Hebrew letter "mem," for "mishtara," police):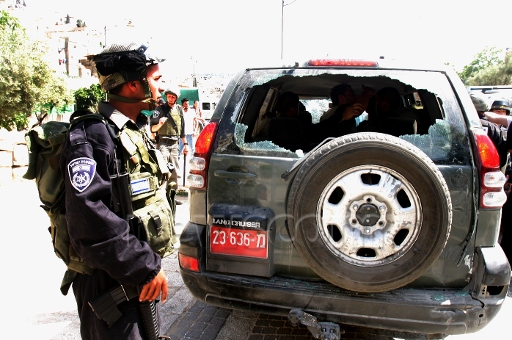 The above image is by Mahfouz Abu Turk of ZUMA Press, and its caption is identical to AFP's.
But that particular police vehicle was not the only one which got some body work that day in Silwan. There's also this: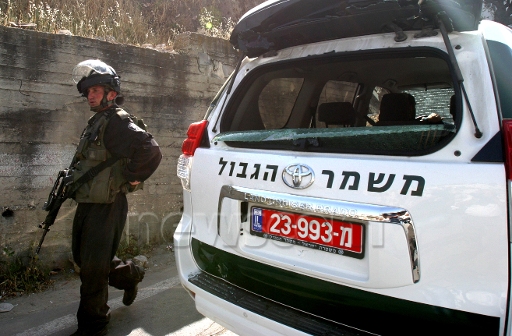 Also by Abu Turk, this photo plainly shows the Israeli police license plate and the Hebrew words "mishmar hagvul," or border patrol. There's no Palestinian detainee to be seen, though, which explains why its not the featured Photo of the Day.
http://blog.camera.org/archives/2012/05/daily_beast.html#more